Many successful people are successful because of the goals they set and work towards. Setting goals and having the ability to work towards in order to achieve them is a valuable skill set. At the start of most yoga sessions, the instructor will invite you to set intentions for your yoga practice. This is an opportunity to set goals for yourself in your physical practice, your mind set, or to dedicate your practice to a particular emotion you are feeling or even a negative emotion which you would like to eliminate or lessen. Now, there is a difference between setting goals and setting intentions. While goals are more future oriented, intentions are more about making a commitment to living in a way that aligns with your inner values. Setting intentions allows you to gain a sort of mental footing that allows you to establish a frame of reference that is more meaningful that simple goal-oriented activity. The goals may still guide you and help in your effectiveness, but the intentions provide the unity in your actions and thus increasing your ability to be effective.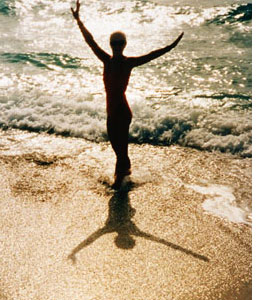 I am returning to my practice and this blog after a bit of a break. With this has come the new design implementation. For me yoga is about creating a strong foundation for myself and I wanted the redesign to reflect the feeling of vitality that yoga gives me. What better way to represent that than with fresh, living grass. Also, with my return, I am bringing a greater focus to what the difference is between my intentions and my goals. I will be starting a new job in a week, which represents an exciting career change, so it will be more important than ever to stay grounded and focused on both my intentions and goals. I will admit the difference between intentions and goals still remains a little fuzzy, but perhaps we can explore this together. Here are some intentions and goals for the next month as well as a couple more long term goals:
Intentions
bring greater consciousness into my actions
accept and show love in my actions
show greater acceptance of myself and others
stay in the present of activities in which I participate
give my best effort in what I set forth, without being disappointed in the outcome
continue to see the humor in all situations
bring focus to my new career
Goals
practice yoga several times each week
improve my skill level at difficult postures
write about my yoga practice in this blog and provide helpful resources
take a long run at least once a week
finish my certificate programs at UCSD Extension
find useful resources for and about market research and social media integration
start my new blog (I won't say too much about this since the idea is not fully thought out!)
finish and polish my personal website
keep my apartment and car clean environments
Long term goals
become yoga teacher certified
explore graduate schools
work on a variety of personal projects
maintain a healthy lifestyle
While some of my goals and intentions are a bit vague for my own privacy, I think it is best to be as specific as possible in goals while the intentions may be a bit more qualitative. What sorts of intentions do you set for yourself? Do you use goals to focus your actions? How do you feel about the difference between setting intentions and setting goals? I would love to hear your thoughts and any feedback you might have!